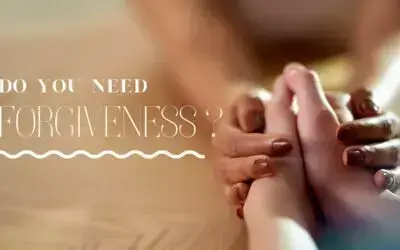 Hello world! Welcome to Life Rocks. I speak on "Do you need forgiveness?" You think about it, let's talk about it.
Forgiveness that everybody searches for is right within your grasp. In fact, because you search and seek and strive for forgiveness, you are distinctly human. Your machines don't ask you for forgiveness, your animal pets don't ask you for forgiveness when one of them fails, another one misbehaves. But when you seek and strive and search for forgiveness because of sins you've committed, wrongdoings that keep you awake in the night, hoping and yearning in your heart for someone who can forgive you… that makes you distinctly human.
So throughout history, there have been many offerings of forgiveness. If you type out "need forgiveness" on your search engine, you'll find matters of partial forgiveness—some sins can be forgiven, others cannot. But who wants partial forgiveness? You can also find temporary forgiveness—forgiveness for a certain amount of time but not after that. Like parental forgiveness, you know, your parents say "boys will be boys, girls will be girls, let's overlook it for a little while and when you do it again, we'll forgive you again."
Along with partial and temporary forgiveness you'll find conditional forgiveness all over the internet: 1, 2, 3, if you do these steps, especially in self punishment and penance, you will be forgiven. It makes you feel very good to punish yourself in order to receive forgiveness—but you're never sure. Then there's arbitrary forgi veness—some perspective says God forgives whoever He wants, whenever He wants, in whichever way He wants, and He can never be dependable as a result.
So instead of partial and temporary and conditional and arbitrary forgiveness, what do you and I need? We need full, final, permanent, in fact, judicial forgiveness. Because there's a judicial charge against you and me, at the standard of perfection, we have failed.
Sometime ago I was in southern Africa going to get a haircut, went into a shop where the barber had signs in my mother tongue all over his shop. I asked if he could read them; he said no.
I wondered why he had signs from this particular language. He said, I am from your part of southern India, and the language is dear to me even though I don't know it, because invaders have stolen our language and our religion. We were the original ones in the country, and now I support people of our kind in a neighboring country who are fomenting a revolution. I told him, you know I can read these signs for you, and my forefather believed just like you about those who stole our language and our religion, but then he found the God who forgives.
So he finished my haircut, I was about to pay, and when he took my money and gave me the receipt, he said, "Sir, sir, sir, who is the God who forgives?" Throughout the entire time that he was cutting my hair, he was wondering, who was the God who forgives? Ladies and gentleman, my friend, we know there is a God who forgives. And a God who forgives fully and finally and permanently and judicially and freely forever. In fact, a God who cannot give you full and final and permanent and judicial forgiveness is not God at all.
Who's this one? God sent his one and only Son to do just that for us. There is forgiveness with God, but how do you get that forgiveness to us, being human? God sent the Lord Jesus to become human, and in addition to the physical death, the eternal death that we face because of our need for forgiveness, He addresses it by His physical death and then He rises from the dead to give you forgiveness, to free you from your sin and shame forever.
Are you forgiven? Would you like to find forgiveness? You think about it. And let's talk about it.