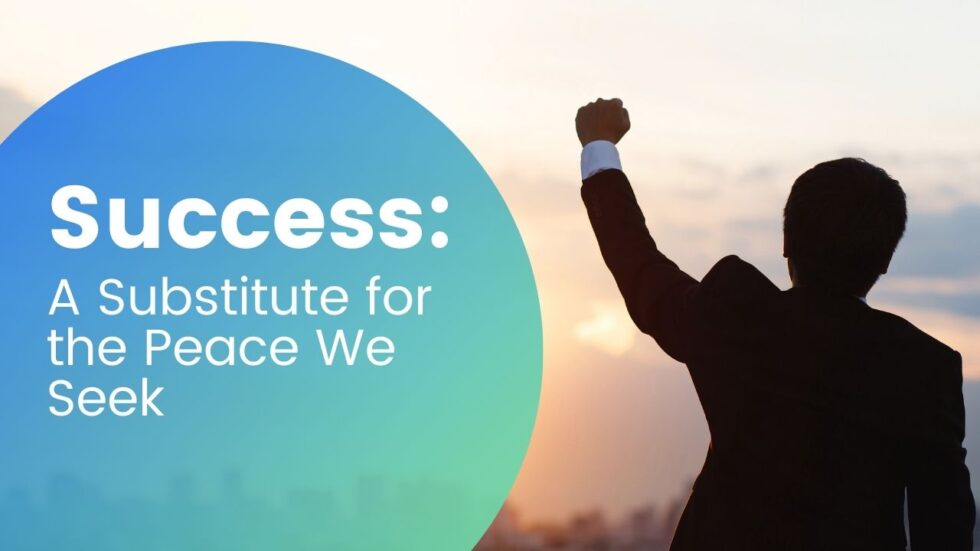 The Success Spiral Syndrome
Does success satisfy the needs and desires of our hearts? When you achieve your idea of success, are you filled with peace and contentment?
Even the most successful people of our day still desire more, something greater than what they currently have. Success is a moving target and can send us into a spiral far from the peace that our hearts long for.
We do not have the power or resources to hold on to true peace. The only source of true peace, peace that surpasses all understanding, is the Creator and Distributor of peace. His name is Prince of Peace, and He offers peace as a free gift to anyone who will accept it. Do you want this peace?
_____________
When I was in school my friends and I liked to play a game where we would try to name the biggest number we could imagine. One of us would start by naming the biggest number we could think of: infinity. Then the game would begin. Someone would quickly correct and say, "Well, infinity plus one is bigger than infinity." And so we would keep adding, "infinity plus two!", "infinity plus three!" until we eventually concluded that we would couldn't name the biggest number.
Our pursuit of success is the similar to this game of futility. Our definition of success always stands to be corrected because once we achieve whatever is our initial idea of success, there is always a next level of success to pursue. In school your goal is to get good marks, after school you hope to find a good job. You get a good job and want a better job, and after you get the better job you want promotion after promotion. It never ends!
Our definition of success is a moving target. If we are not careful, we are sure to spiral into chaos and hopelessness. We see this in ourselves and in those around us: We work towards success but always hope for more. Even those whom we label as "successful" are dissatisfied with what they have and continue to strive towards the next level of success, fame and fortune.
Similarly, we sometimes trick ourselves into believing that if we are wealthy, we will be happy. But just like success, gaining wealth only leaves us hungrier for more. The classic children's story, The Emperor's New Clothes, shows the danger of putting all your hope in external wealth and status.
As you know, the emperor in the story is a collector of fine clothing. His wardrobe is packed with clothes made from only the finest materials, but still he craves more. Knowing his weakness for beautiful clothes, two crooks come before him and tell him that they are weavers. They tell him they have material so fine that only the wealthiest and wisest can see it. The king loves the idea of wearing these fine clothes, and gives them money and silk to go and weave him an entire outfit of the magical material.
The thieves of course have no magical fabric and take the king's money and silk for their own profit. When it is time for them to bring the king his new, magical clothing, they bring it in and dress him in what they have woven: nothing. But the king, believing only those who are wealthy and wise can see the clothes made by these men, beams with pride at his new apparel. In fact, the king was wearing nothing! He was made a fool because he chased after status and wealth.
We work towards success and desire wealth because we believe it will bring us what our hearts truly desire: peace.
Peace to know that we are valued. Peace to know that we are taken care of. Peace to know that we matter.
But this kind of peace cannot be found in any definition of success or wealth. It can only be found in the Creator and Distributor of all peace, the One who is called the Prince of Peace. The beauty of the Prince of Peace is that He has made His peace available to all who will receive it.
This peace is everlasting, never changing and unshakable. This peace can be yours, all you have to do is receive it. Will you?
HERE AT www.rameshrichard.com, WE WANT TO HELP YOU FIND YOUR PURPOSE IN LIFE. YOU CAN EXPRESS YOUR HEART RESPONSE BY TALKING LIKE THIS TO GOD.
"GOD, YOU AND I KNOW I AM LOST. i HAVE TURNED AWAY FORM YOU, AND LOST MY WAY, I HUMBLY ASK YOU TO SAVE ME FROM THIS PERMANENT SITUATION THANK YOU FOR CREATING ME, VALUING ME AND LOVING ME. THANK YOU FOR SENDING THE LORD JESUS TO COVER ME BY DEATH FROM WHAT I ETERNALLY DESERVE AND BY HIS RESURRECTION INVITING ME TO ETERNAL RESUCE.
I TRUST YOU, LORD JESUS, AS MY LORD AND SAVIOR.